Expotent premium: The classic tent with a new design!

In just 2 minutes and without any additional tools you can assemble this tent.





This makes the epotent premium to a must-have for all of your fair needs. The expotent premium also offers a compact sized carry-bag, a convenient wheeling systém, and ample space for all of your advertising needs.

The expotent premium is the next generation of our allready improved tent system. All of the basic parts have been improved, adjusted and adapted.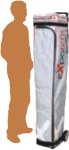 Octagonal alluminium profiles (thickness 2mm, diameter 38mm) as well as scissors-profiles, equipped with two internal couching-reinforcement stillbars, bear the brunt of frequent assembly. Choose between our two included standard entrance heights 2 and 2,3m.

A large base-plate relieves you of having to worry about sinking into wet or soft ground.

What make expotent so impresive is our modern design. Silver-grey dyed reinforced fiberglass (GRP) plastic fastener/gliders round of the entire appearance. Add to this the variety of tent sizesranging from 2x2 to 6x3m and our special carry-bag equipped woth wheels for easy transport

There is noquestion: the expotent is an investment that will qicklyfor itself. Our new and improved design offders premium advertising space as well as the added benefit of weather protection. Even after many years of use you can expect our product to still look brand new.

Sizes:
2x2 m, 2,5x2,5 m, 3x2 m, 3x3 m, 4x4 m, 4,5x3 m, 6x3 m.

Material:
-Anodised aluminium profile
- Smooth GRP plastic connecters and gliders
- Stainless screw
- Covers and sidewalls made uot of 100% polyester with a special PU-coating and B1 fire-proof certificate
- Stake kit with extra long stant pegs


Accesories:
- Sidewalls
- Weights
- Rain gutters and telescopic bars
- Connections clamps